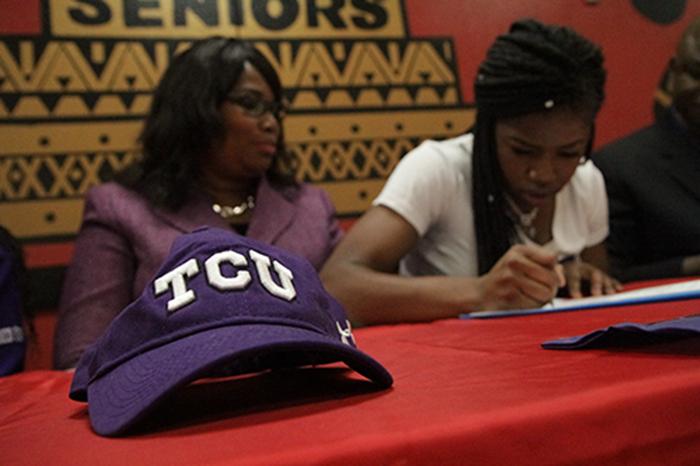 By Anissa Campa for Aztec Gold Online
El Dorado's standout basketball player, Adeola Akomolafe, committed to Texas Christian University in Fort Worth during a signing ceremony Nov. 17 in the school cafeteria, after cancelling her verbal commitment to the University of Texas at El Paso. Akomolafe's top college choices included TCU, UTEP and Wichita State, all of which have strong basketball programs. Once Akomolafe realized that she had more options on where she could attend college, she decided to choose TCU over the others, because of its record of outstanding academic programs.
The El Dorado cafeteria was alive with sights and sounds as friends, family, teammates, coaches, school officials, members of the press and even Akomolafe's grandparents, who traveled all the way from Nigeria for the event, joined Akomolafe for the official signing ceremony.
"It feels good (to sign the commitment). It is like you have your life set, so it is good knowing you have everything ready," Akomolafe said. "Now it is just about preparing and getting better."
During the signing, Akomolafe, thanked God for giving her the ability to play basketball the way she does and her parents for sacrificing everything they have for her.
"They made so many sacrifices to make sure that I'm constantly growing in the game," Akomolafe said. "I wan to thank all my coaches who have helped my development not only as an athlete, but also as a person. I would like to thank all of them because I would not be in the position that I am today."
The 6-foot forward, who averaged 15 points a game and led the state with the most rebounds last season, is not only committed to basketball, but also gets involved with different organizations here at El Dorado. Akomolafe has prepared herself for an opportunity like this almost her whole life.
"I always go the extra mile, working on smaller things like fundamentals," Akomolafe said.
Over the past two years, El Dorados girls' basketball coach, Ty Burns has continued to push her and help her develop more skills that will make Akomolafe a better basketball player in the future. Coach Burns talks very highly of Ola and feels she is an amazing person, no matter what she is involved with.
"Ola is the ideal player that every coach dreams of, her work ethic on and off the court (is outstanding) and (she) never complains about anything," Coach Burns said. "It is just a blessing to have a player like her. She is a good player and she knows she is good, but she is very humble and that is what makes her so unique."
Other than her coaches, her family members are the ones that have always stuck by her and supported her in everything she does. Ola's older brother, Tola, who has also played college basketball, is extremely proud of what she has done, but feels that her actions can impact more of the community and not just her family.
"We are really proud and support her. It is actually not for the family, but more for El Paso, not many people from here make it to where she is at," he said. "It is a big honor for her to make it this far. She is a hard worker and has so much dedication."
Ola's mother, Catherine, believes in her so much and supports her in everything she has done.
"She is not gone yet, but when she is I'm going to miss her. But I am just going to pray because I know she will be ok," she said.
In college Adeola plans on studying kinesiology so she can later become a physical therapist. She always puts academics first, but if her basketball career advances into the WNBA or she has the opportunity to play in an international league, she plans to take advantage of that chance.