Aztecs fall short to Eagles, 34-30, at homecoming game
Taking the field for opening kickoff, the El Dorado Aztecs knew they were going to face a challenge defensively, and that is to stop 5-foot, 10-inch, 267-pound Andress running back Travon Ware, who made ESPN Sportscenter the previous week. The Aztecs were ready to put on a show at the SAC for their homecoming.
Immediately the game was a defensive shootout. The Andress Eagles had an interception which led to a touchdown, and El Dorado picked up safety after a bad snap. The competitiveness continued. At halftime, the score was 13-10, in favor of Andress. 
"We had some field position that we needed to take advantage of at the very beginning and we didn't," Head Coach David Telas said. "Though, we kind of settled a little bit and were moving the ball toward the end of the first half and on." 
The third quarter went off to a slow start. Both teams struggled to get things going. Andress was able to score, pushing the score to 20-10. 
"We need to start going in the first quarter and not wait to start up in the second quarter or next half," senior quarterback Christopher Bustillos said.
The atmosphere in the fourth quarter was completely opposite than that in the third. Forty seconds into the quarter, Bustillos connected with senior receiver Duane Nelson-Betts (two receptions, 99 yards) for a 93-yard touchdown pass. The Eagles responded by returning the following kick 88 yards for a touchdown, making the score 27-17. 
Five minutes later, Aztecs scored to cut the lead down to three points. With 1:17 left in the game, Andress scored to make the score 34-24. Several plays later, with 0:41 seconds in the game, the Aztecs scored, but the extra point was blocked. 
With the game on the line, the Aztecs had to recover the onside kick if they wanted a chance to win. Andress recovered the kick and ran out the clock. Eagles won 34-30. At the end of the game, the Aztecs had 442 yards of total offense. 
"Every position did the best they could, and we looked and executed a lot better tonight," junior receiver Chris Harris said. 
About the Contributor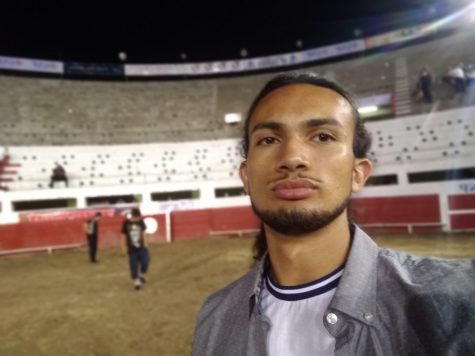 Sebastian Rodriguez, '21 Staffer
Sebastian Rodriguez is a senior in the International Baccalaureate program. He is a part of guitar club and on the football team. Outside of school, he is in the El Paso Youth Symphony Orchestra, plays guitar in the band  "Toxic Priest," and he was a part of the June 2021 Congress of Future Medical Leaders. He enjoys playing the electric guitar, listening to music in his free time and spending time with his family. He has plans to study kinesiology and he wishes to become a physical therapist or an orthopedic surgeon. Sebastian covers sports and fine arts and was the AGO sports reporter at varsity football games in his sophomore year.