Yearbook Central

---
Seniors, don't be left out of the yearbook! Book your senior portrait appointment today.
Schedule your senior yearbook portrait today at Glamour Shots. Call 915-594-7594 today to make an appointment. Senior portraits taken too late in the year will not appear in the yearbook. If you want your senior cap and gown photo to be published in the yearbook, the photo must be taken by Glamour Shots in the fall semester. Photos from other photographers will not be accepted.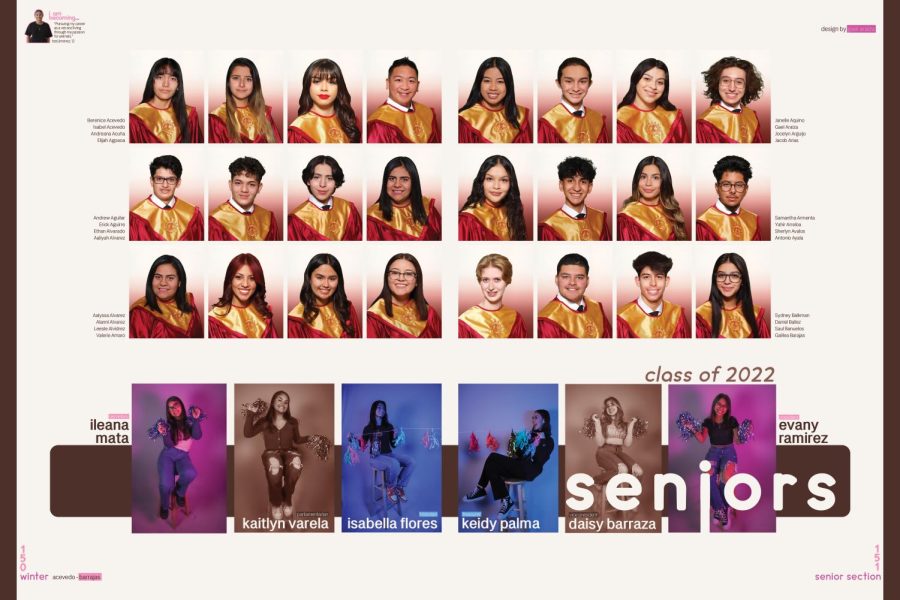 ---
Reserve a Senior Dedication Ad
Parents can celebrate the accomplishments of their senior graduate with a senior dedication ad. We offer custom, fully-designed dedication ads in three sizes — full page, half page and quarter page. To purchase a senior dedication ad, first fill out the virtual contract here.
FAQs

Q. How do I reserve a page?
A. Simply fill out the contract form linked above and then purchase your senior dedication ad at www.yearbookforever.com. Payment options are available on the website. Email [email protected] for instructions or questions.
Q. How do I turn in photos and text?
A. It's best to email [email protected] with your scanned photos or upload the photos at the point of purchase at www.yearbookforever.com. Consider downloading the CamScanner App or Office Lens to turn your smart phone into a scanner! Please do not send photos of photos. This can create unsightly glare and result in low resolution. As much as possible, try to scan hard copies. 
Q. Can senior dedication pages sell out?
A. Yes! A predetermined amount of senior dedication pages are reserved at the beginning of the school year. We cannot add pages to the senior dedication section after October. So, it's important that you reserve your spot early, typically before the first semester ends.
Q. When is the entire payment due?
A. Final cash/check payments for all senior ads must be made no later than Feb. 14 — Valentine's Day! To pay with credit card, you must follow the payment plan on www.yearbookforever.com. Please keep in mind, once you make an online payment at www.yearbookforever.com for yearbooks and/or senior dedication ads, NO REFUNDS CAN BE GIVEN in the event that you want to cancel your reserved senior dedication ad. Once the contract and payment is submitted, you cannot receive a refund if you cancel for any reason. All content for the senior dedication ad is due Jan. 31, 2024. 
Q. When is the last day to reserve a senior dedication page?
A. The last day we can accept senior dedication contracts is Jan. 31, 2023. However, pages are limited and we may sell out before the last business day in January.
Q. Will I be able to approve my senior dedication page?
A. Yes! Absolutely! A proof of the senior dedication page will be sent to the email that is provided in the contract. Parents have 5 business days to respond to the email with any changes they would like. If we do not hear from the parent within the 5-day period, we will assume that you like the page the way that it is and will publish it as is.
---
Welcome, Faculty Yearbook Supporters!
Calling all coaches, sponsors, teachers and directors! From mariachi and art, to DECA, football, track and IB, we all have students on our teams and clubs that make those organizations not just great, but outstanding. Long after they have graduated, our students will dust off their yearbooks and glance back at all of the best moments of their high school career.
When you purchase a spread in the yearbook for your team or club, you give your students the ability to look back at all the activities you did with them – from building teddy bears for sick children, to winning the district championship, to watching movies on the field, our students will remember all of the best moments from their year with you as their sponsor or director. Reserve a spread in the yearbook today.
Reserve a spread for your students and athletes today! How do you get a spread in our award-winning yearbook? All you have to do is fill out the contract, by clicking here. The contract is used to gather information about you and your organization, team, class or club. A yearbook reporter will be assigned to cover your group's activities and events all year long.
Here are some examples of spreads from The Legend 2022.
Pricing and Prior Review Policy
A spread, which is two facing pages in the yearbook, costs $100. Your support of this student publication goes to buying things like new computers, cameras and scanners to replace our aging equipment. It also allows us to be members of professional journalism organizations that train us how to create a better product for you. Proceeds from the yearbook sales mostly go to paying the publisher for support, printing and shipping, but we are able to attend workshops and enter competitions with your financial support.
By signing a contract you ensure that:
1. A photographer is at every event that you request we be at. Students are required to cover at least 50 percent of games and events.
2. Students in your club are covered through the main feature story, captioned photographs, and sidebar coverage.
3. Scores (if applicable) and group photo with caption is listed in the yearbook.
4. By request only, you will receive a proof of your spread. You have a strict, 48-hour window to check for any spelling, accuracy or grammar mistakes only. Changes to the story, secondary coverage and photos will not be allowed to maintain journalistic integrity of the student publication.
5. However, you will be able to suggest story ideas and which students you would like on your spread during interviews with your student reporter. They will go off of your suggestions, so make sure you do try to meet with them when they first contact you.
FAQs
Q: How do I reserve a spread in the yearbook?
A: Simply fill out the contract located here! You will receive further communication from me later on.
Q: When is the deadline to reserve a spread?
A: I must send our page count and other specs to the publisher this month. The deadline to commit to being in the yearbook is Friday, Aug. 26, 2022. We are not able to add spreads into the yearbook after this time.
Q: When is the $100 due?
A: The cost of the yearbook spread is due no later than Dec. 9, 2022, that way everyone has enough time to budget and raise funds.
Q: How do I request a spread proof and submit corrections?
A: Request a proof by contacting me via my email, [email protected]. Any corrections you want to the page must be made in writing via email.
Q: What kind of corrections can I make?
A: The yearbook is a student publication and learning experience for scholar/reporters. For that reason, only any grammar problems, misspellings of names, and inaccurate statements will be changed. We will not be able to change out photographs you don't like or change the content of any stories or coverage, unless there are exceptional circumstances. You will be receiving a proof of the spread at the point when it is about to go to publication, so time constraints will not allow for any further changes. This is why it is very important that you make good suggestions about what you would like to see on the page to your reporter in interviews. He or she will take those suggestions into consideration. Our goal is to allow these students to use their training, creativity and artistic voice to create an ethical, journalistic, original, student-led publication, while still pleasing our supporters.
Q: When will my spread be sent to the publisher?
A: The yearbook is arranged in chronological order and will be divided by the four 9-week grading periods. For sports, we will publish your page when the season is over. For clubs, we will request a tentative calendar of events and use that to structure our deadlines.
For any other questions or concerns, please contact me at [email protected], #73312, or in B112. Thank you so much for your interest and support!