Too Cute to Spook
Dog mom designs costumes for her fur babies on Halloween
In the face of COVID-19, the familiar "Trick-or-Treat" turned into "Stay at Home." Sharing candy and screaming through haunted houses were not allowed this Halloween. But, the chance to choose fun costumes with loved ones is worth taking. Or at least — with our pets.
On Oct. 31, senior Cynthia Soto dressed her two Chihuahuas in adorable costumes. Although the traditional fun day was canceled, Soto designed her own fun day. Literally.
She gathered doll clothes stored around her home, bought a few items and got to work.
"I wanted to show their funny personalities," Soto said. "I found inspiration for their costumes with movies I've seen and Pinterest."
For Kiara, the oldest and biggest dog, Soto had a special costume prepared for her. Inspired by the movie "Mean Girls" and Kiara's "sassy" personality, she decided to dress her up as a model with curly hair, sunglasses and a red collar. While Soto's smaller pet Nano, was dressed as a cowboy. Certainly, the "Woody Cowboy" hat from Toy Story and a little flannel matched his playful nature.
"My dogs mean everything to me," Soto said. "I love how they looked and the confusion they had on their faces."
For Soto, Halloween did not change much. Halloween is not the only holiday the Soto family celebrates that day; Oct. 31 also marks the day of her mother's birth, so the family gathers every year.
"But this time, we decided to dress up my dogs to make the day more enjoyable," Soto said. "My dogs show how appreciative they are to have a family — that has only made me love them more."
Regardless of constant uncertainty, we can react positively. Like Soto, one way of making holidays better is being creative with those precious pets. 
"They've kept me active during this pandemic," Soto said. "They're like my kids — I love them so much."
About the Contributor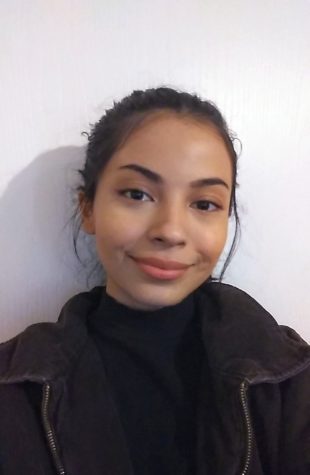 Genesis Ramirez, 2021 Copy Editor
G
enesis Ramirez
is a 
senior
and has been on staff for two
 ye
ars.
Ramirez has covered theater, welding and homecoming events
. She is now a copy editor for The Legend 2021, helping the staff to develop
amazingly
written stories. 
Along with being a yearbook student, 
Ramirez i
s in 
d
ual credit
, a
 member of 
ACADEC
 and the Tax Club.
Her hobbies are painting, designing clothing and writing poetry. Her interests are in support of her plan
to study business at The University of Texas at El Paso
to
 start her own clothing brand. 
Ramirez won second
place in the
2019 
ACADEC competition
and first place in EPCC art competition.
The reporter 
life has
 helped her develop
 a love for memories and diverse perspectives.
She hopes to contribute to another award-winning yearbook and
"write"
history.