4 Self-Care Activities for Your Health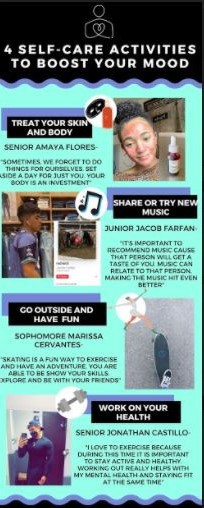 About the Contributor
Genesis Ramirez, 2021 Copy Editor
G
enesis Ramirez
is a 
senior
and has been on staff for two
 ye
ars.
Ramirez has covered theater, welding and homecoming events
. She is now a copy editor for The Legend 2021, helping the staff to develop
amazingly
written stories. 
Along with being a yearbook student, 
Ramirez i
s in 
d
ual credit
, a
 member of 
ACADEC
 and the Tax Club.
Her hobbies are painting, designing clothing and writing poetry. Her interests are in support of her plan
to study business at The University of Texas at El Paso
to
 start her own clothing brand. 
Ramirez won second
place in the
2019 
ACADEC competition
and first place in EPCC art competition.
The reporter 
life has
 helped her develop
 a love for memories and diverse perspectives.
She hopes to contribute to another award-winning yearbook and
"write"
history.