The top 10 Bond films ranked as 'No Time to Die' premieres
2021 release bids farewell to Daniel Craig as 007, but 'Skyfall' is this reviewer's favorite Bond film
"No Time to Die" is the newest and 25th installment in the Bond franchise. I had high expectations for this movie going into it and was waiting anxiously, just like the rest of the world. Ahead of the Oct. 8 release for the fifth and final movie with Daniel Craig as the legendary MI6 agent, I watched all 24 preceding films from "Dr. No" (1962) to "Spectre" (2015). I was ready to be blown away.
When I left the theater, which was the first time I saw a Bond movie on the big screen, I had mixed feelings. It was a beautiful send off to Craig's extraordinary 20-year run as 007. The action was amazing and the music was sooo Bond. The problems I had with this film include the many plot points that felt divergent from what a Bond movie usually does. There were also some glaring plot holes and and underwhelming villain in Safin, played by Academy Award winner Rami Malek. "No Time to Die" didn't turn out to be my favorite, but it is going to be an important Bond film and a definite recommendation to any lover of the charismatic, unstoppable, complex hero. The last movie ranks 12th overall on my list, but after watching all 25 movies, in order, since mid-September, I present a countdown of my top ten Bond films. Which one is your favorite?
10. "For Your Eyes Only" (1981): This is one of the underrated movies in the franchise. It's such a grounded film from the out crazy ones like "Moonraker" when they're going to space. The cast does a great job and the song by Sheena Easton is a personal favorite.
9. "The Living Daylights" (1987): This one was such a great and action-packed film. Plus, that song from the band Aha-Ha, is a very good mix of 80's pop and spy thriller. It's also the first film to star Timothy Dalton as James Bond.
8. "From Russia with Love" (1963): This one is a classic for sure. This is actually the second 007 film ever made and yet, it still holds up against the test of time with NAME starring as Bond. It's classic espionage and spy action and one of my favorites.
7. "The Spy Who Loved Me" (1977): This is my favorite Roger Moore Bond movie. It's such a classic with really good action and music. The theme song "Nobody Does It Better" by Carly Simon is my second favorite Bond song.
6. "Licence to Kill" (1989): This was actually the first 007 movie to get a PG-13 rating and it is so good. Timothy Dalton's final film was such a good film even though he only did two.
5. "GoldenEye" (1995): One of the most popular movies in the series, this film reinvented Bond in the 90's and was Pierce Brosnan's first 007 movie.
4. "On Her Majesty's Secret Service" (1969): If I were to describe this movie it is underrated. This was George Lazenby's first and only movie, which makes it unique. It is just super good and if you are looking for an ambitious and grounded Bond movie, it's this one."
3. "Goldfinger" (1964): This is probably the most influential Bond movie and for good reasons. Sean Connery's third movie is action and thrills mixed into one. It has one of the iconic theme songs and one iconic villain which is Auric Goldfinger, who just deliciously evil."
2. "Casino Royal" (2006): Daniel Craig's first Bond movie is actually considered the best 007 film amongst all the others and I can see why. It's an imaginative reinvention of the character for modern audiences, but still true to author Ian Fleming's original vision in the book series. The action is artistically choreographed and there's emotional story telling here that's really never been done before with Bond since "Her Majesty's Secret Service."
1. "Skyfall" (2012): "This is by far my favorite 007 movie. It has my favorite actor, my favorite villain and my favorite theme song by Adele. It's honestly a perfect film, unveiling Bond's past to his loyal and dedicated fan base. Directed by Sam Mendes and with an all-star cast of Daniel Craig, Javier Bardem and Dame Judi Dench, it's the best Bond film, in my opinion.
About the Contributor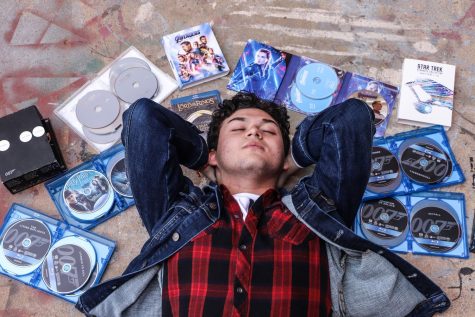 Beto Molinar, '22 Staffer
Beto Molinar is senior staffer at El Dorado High School. He love everything about film and has been on staff for three years. He has covered sports teams on campus and is the resident film reviewer for Aztec Gold Online News.