Quarterback wins regional showcase competition 
On Dec. 11, the Greater El Paso Football Showcase hosted the Stansbury Certified 2021 Quarterback Challenge at El Paso High School's R.R. Jones Stadium. The event was held as a competition for all El Paso County high school quarterbacks to showcase their talents along with their skills and compete amongst one another. For El Dorado's own Ricardo Portillo, this was his chance for his abilities to get recognized. Portillo first found out about the event when he saw former El Dorado Quarterback Christopher Bustillos participate in the event. 
"It was cool being able to compete against every other quarterback in El Paso and be able to showcase that I am just as good as everyone," Portillo said. 
The senior quarterback was looking at the showcase as a way to get his name out there and prove himself as one of the city's top "gunslingers." Even though he finished the season throwing for 1,355 yards and 14 touchdowns, his abilities were doubted throughout the course of the season, as well as throughout his entire career. 
"People always underestimated me and always thought I wasn't as good as I seemed and people thought I wouldn't be the starter, so I worked my butt off and proved them wrong," Portillo said. 
The players took part in a set of drills which included a long toss, accuracy drills and agility drills along with a touchdown drill. When the final whistle blew, the last player standing was Portillo. For Ricardo, this recognition meant proving his doubters wrong and being able to add a gold star on his resume. 
"I think it kind of helps me because colleges could see that I have won challenges and was one of the best quarterbacks in the city of El Paso," Portillo said. "It felt good because I have always been doubted. People would say I wasn't as good as everybody else, and just to know that I won meant a lot."
About the Contributor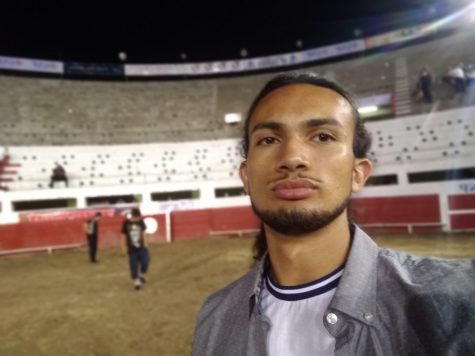 Sebastian Rodriguez, '21 Staffer
Sebastian Rodriguez is a senior in the International Baccalaureate program. He is a part of guitar club and on the football team. Outside of school, he is in the El Paso Youth Symphony Orchestra, plays guitar in the band  "Toxic Priest," and he was a part of the June 2021 Congress of Future Medical Leaders. He enjoys playing the electric guitar, listening to music in his free time and spending time with his family. He has plans to study kinesiology and he wishes to become a physical therapist or an orthopedic surgeon. Sebastian covers sports and fine arts and was the AGO sports reporter at varsity football games in his sophomore year.