DIY Teen Spirit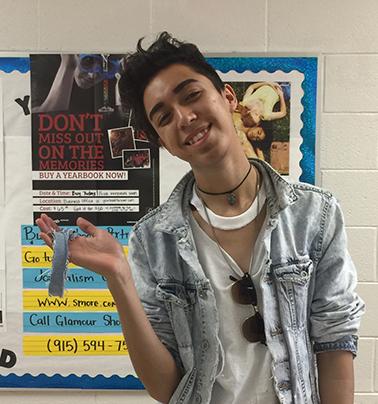 DIY Teen Spirit
Student sets trends with hand-made chokers
By Jesse Baird
DIYs were made to be cheap and money saving projects. In today's society more and more teens are turning to DIYs for room decor, fashion attire and as gifts. DIY-ing is an outlet for creativity for senior Benjamin Martinez, whose innovative, handmade chokers perfectly match his outfits.
"DIY's help you uncover natural talents to pointing you toward your values and passions," senior Benjamin Martinez said.
Martinez uses DIY in his fashion attire. He has made DIY chokers out of old pairs of jeans and has also made many more DIYs with recycled materials. Martinez also makes DIY crop tops and has used the left over material to make headbands. Many things like this can also boost yourself confidence and create more zen and peacefulness in your life.
"DIY-ing is a revealing way to find out what matters most to you," Martinez said.