Aztec Gold's NFL Mock Draft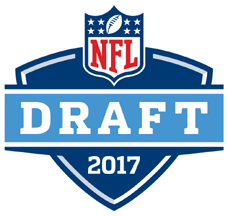 Aztec

Gold

'

s NFL Mock Draft
By Lorenzino Estrada and Reno Del Toro
On April 27, 2017, the NFL draft will take place in Philadelphia, Pennsylvania. This legendary selection event will start off a journey for many young talents, who will hear their name called, fulfilling a lifelong dream. Here are our first-round predictions for the night that makes or breaks NFL franchises.
Cleveland Browns, Myles Garrett- DE, Texas A& M
The Browns need a quarterback, but the superstar potential of the A& M product is too
good to pass up on.
San Francisco 49ers, Mitchell Trubisky- QB, North Carolina
In a fast-paced, "Kyle-Shanahan" system, the new head coach will look to turn the 6'3"
quarterback into the next Matt Ryan.
Chicago Bears, Jamal Adams- S, Louisiana State University
The Bears will look to boost their secondary in a division with talent of Aaron Rodgers
and Matthew Stafford.
Jacksonville Jaguars, Soloman Thomas- DE, Stanford
Tom Coughlin will try to mimic his previous Giants team by adding another piece to a
defensive line that already has the likes of Malik Jackson, Yannick Ngakoue and Calais
Campbell.
Tennessee Titans, Marshon Lattimore- CB, Ohio State University
With the departure of long-time defensive back Jason McCourty, the Titans will add a
young playmaker to a depleted secondary.
New York Jets, Leonard Fournette- RB, Louisiana State University
The Jets have needs across the board, but the opportunity of drafting a franchise RB1 is
too good to not take.
San Diego Chargers, Malik Hooker- S, Ohio State University
The Chargers continue to build on their defense, taking the versatile safety that will fit in
just right in defensive coordinators Gus Bradley's scheme.
Carolina Panthers, O.J. Howard- TE, University of Alabama
Despite having Greg Olsen, the electric TE from Tuscaloosa will provide nightmares for
secondaries across the league for years to come, adding another weapon to Cam
Newton's arsenal.
Cincinnati Bengals, Reuben Foster- LB, University of Alabama
Losing multiple pieces on the defensive side of the ball, the Bengals will add the
troubled, yet talented LB, placing him next to Vontaze Burfict, terror for years to come.
Buffalo Bills, Mike Williams- WR, Clemson University
Tyrod Taylor gets another physical wide out from Clemson, pairing him with the young
Sammy Watkins.
New Orleans Saints, Jonathan Allen- DE, University of Alabama
Once projected to go in the top-five, Allen is the safest pick in this year's draft, sure to
provide consistency for a struggling defense.
Cleveland Browns, Corey Davis- WR, Western Michigan University
Losing Terelle Pryor in free agency, the Browns will pass on a QB once again to pair
Corey Coleman with another playmaking wide receiver.
Arizona Cardinals, Tre'Davious White- CB, Louisiana State University
Patrick Peterson and Tyrann Mathieu, both LSU products. It's worked out for them so
might as well take another Tiger from the bayou.
Philadelphia Eagles, Christian McCaffrey- RB, Stanford University
The Eagles add the dynamic rusher and catcher from southern California.
Indianapolis Colts, Derek Barnett- DE, University of Tennessee
A lackluster pass rush from the Colts gets an immediate boost with Barnett, whose stats
parallel the predicted number one pick.
Baltimore Ravens, Dalvin Cook- RB, Florida State University
The Ravens place the electric running back behind a solid offensive line; alleviating Joe
Flacco from 40 passes a game.
Washington Redskins, Takkarist Mckinley- DE, University of California LA
Whether he is placed at defensive end or linebacker, the Redskins add a difference
maker to a defense needing of those positions.
Tennessee Titans, John Ross- WR, University of Washington
Thin at wide receiver, Marcus Mariota gets the explosive, record-shattering wide out.
Tampa Bay Buccaneers, David Njoku- TE, University of Miami
After the failed Austin Seferian-Jenkins experiment, the Bucs gain the sure-fire pass
catching tight end from the U, adding another weapon for Jameis Winston.
Denver Broncos, Forrest Lamp- OG, Western Kentucky University
In a division filled with bullies at pass rusher, the Broncos add a piece to protect
whoever their quarterback will be at the time.
Detroit Lions, Hassan Reddick- DE, Temple University
With the retirement of DeAndre Levy, the Lions add the pass rusher with the ability to
drop back in their defensive scheme.
Miami Dolphins, Jarrad Davis- LB, University of Florida
Miami adds the versatile hometown linebacker, providing a boost to a shaky linebacker
core.
New York Giants, Ryan Ramczyk- OT, University of Wisconsin
The Giants look to provide Eli Manning with protection with his years in the league
dwindling down.
Oakland Raiders, Kevin King- CB, University of Washington
Oakland adds the young cornerback to pair with David Amerson and the hard-hitting
Karl Joseph.
Houston Texans, Gareon Conley- CB, Ohio State University
After losing A.J. Bouye to the Jacksonville Jaguars, the Texans hope to acquire another
difference maker in Conley, despite giving up huge performances in big games.
Seattle Seahawks, Cam Robinson- OT, University of Alabama
Russell Wilson needs to be protected in order to stabilize their offense. The Seahawks
will add the tackle in hopes of that.
Kansas City Chiefs, Deshaun Watson- QB, Clemson University
Alex Smith is getting old; the quarterback's deteriorating arm will not last much longer.
Watson will provide an explosive boost to a slow-paced Chiefs offense.
Dallas Cowboys, Jabrill Peppers- S, University of Michigan
Defense is an obvious concern for the boys; they will add the hybrid defensive talent in
Peppers, who has the ability to play multiple positions on defense.
Green Bay Packers, Quincy Wilson- CB, University of Florida
Green Bay's last game of the season was a major indicator of where to go in this draft,
Wilson will provide stability at CB along with Damarious Randall.
Pittsburgh Steelers, Adoree Jackson- CB, University of Southern California
Like Jabrill Peppers, Jackson provides versatility across the defensive side of the ball.
Atlanta Falcons, Taco Charlton- DE, University of Michigan
The Falcons add another pass rusher to place alongside Vic Beasley.
New Orleans Saints, Charles Harris- LB, University of Missouri
Defense is the biggest need for the New Orleans Saints and Harris provides cover and pass rushing skills.