New fine arts, CTE buildings planned for El Dorado
Officials hold community meeting to share building upgrades funded by recent bond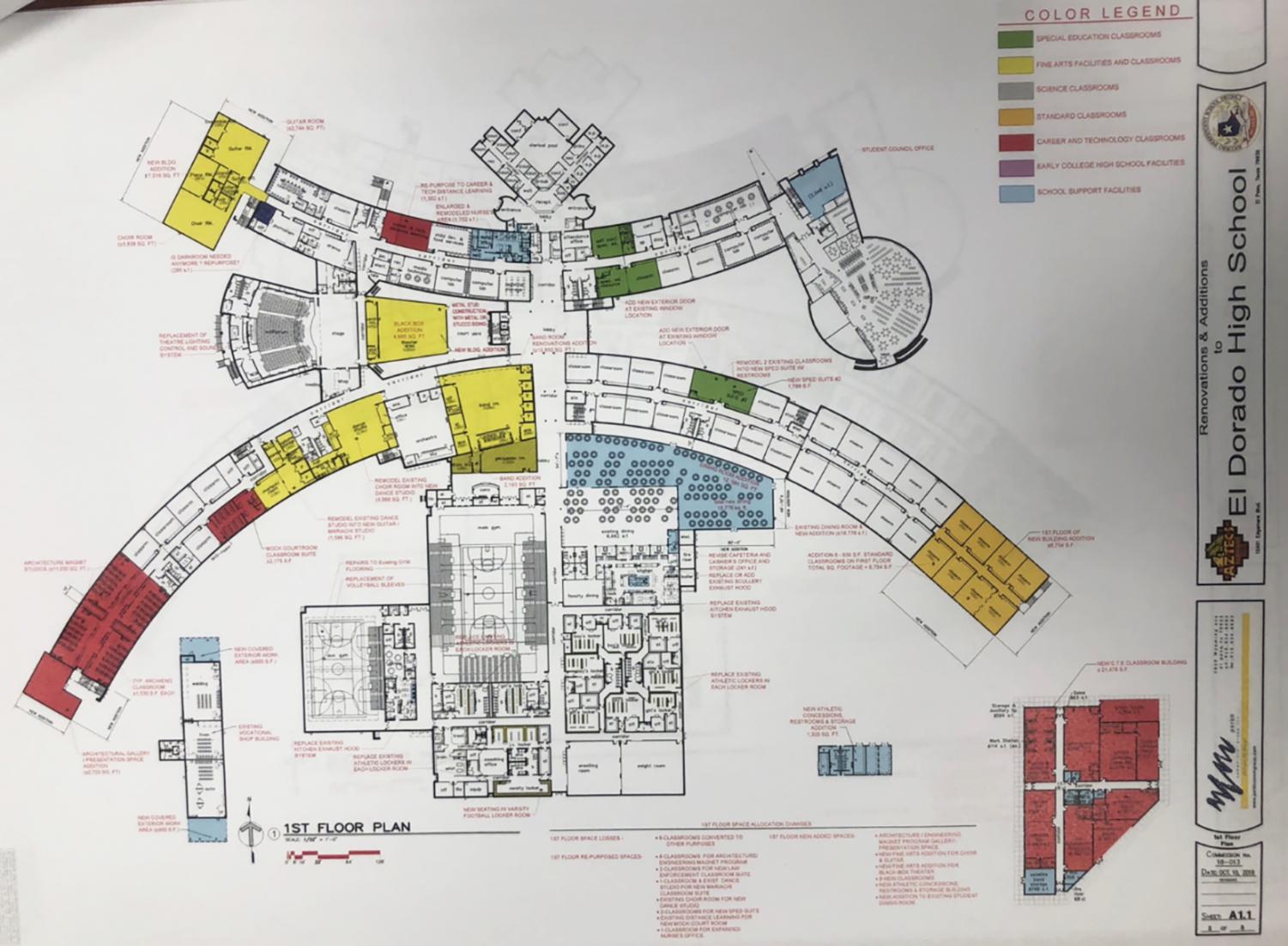 El Dorado High School, originally built in 2003, is scheduled for renovations additions and upgrades to the existing building, funded by the recent $448.5 million bond passed by the voters in2017. School and community members learned of the plans for the campus in a meeting in November, presented by architect and Chief Operations Officer Thomas Eyeington, Project Architect Bob Filarski and Co-President Tommy Razloznik.
El Dorado will receive many new buildings to benefit student life on campus, beginning with a fine arts building that will be added outside of the B hallway. It will include classrooms, practice rooms and storage rooms for guitar, piano and choir.
A new CTE building will be added outside of the E hallway. It will include classrooms and storage rooms for animal sciences, floral design, family and consumer sciences, two law enforcement classrooms and two robotics classrooms.
A porch and a greenhouse will allow students to study plants and agriculture. The law enforcement program will  receive two evidence storage lockers and porch for training.
The robotics classroom will be designed to have student seating, as well as a second room  for students to work on projects. That project room will come with an 8-foot by 8-foot sliding door for an easy way to move large projects out of the classroom.
A new mock courtroom will be constructed in the first floor of the D hallway as well as an office for student council, which will be added outside of the library for meetings and presentations. Eight new classrooms will be added to the E100 hallway.
The additions added at the end of the first floor of D hall will contain a classroom for the architecture magnet program. Not only will they have a new working space, but also a connected gallery space to showcase projects and hold presentations.
Many rooms will be remodelled in the D100 hall, including the choir room and the dance studio. The existing choir room will be redesigned into a new dance studio, while the existing dance studio will turn into a new guitar and mariachi studio.
The bandroom will be extended to add a new room where percussion can store all their instruments. All practice rooms, storage rooms and the office will be redesigned to enlarge the class space.
Meanwhile in the B100 hallway, the career and distance learning lab will be repurposed.
The nurse's office will be extended and remodeled to allow for more beds and office space.
A new special education suite, including restrooms, will be built in the E100 hallway. A door will be built where windows currently exist to allow easy access from the special education classrooms to where buses stop near the C100 hallway.
The athletics department will get a small building for concessions while students are showing their school pride, cheering on fellow Aztecs.This new addition will also include restrooms and a storage space for extra supplies.
The cafeteria dining area will be enlarged 12,084 square feet to avoid overcrowding while students wait in line. The exhaust hood system will also be replaced in the kitchen.
Lastly, the front of the school will no longer fill with water during heavy rain. It will now have piping that will avoid flooding. In addition, it will be bordered with many trees and desert plants for a more alive look. The center will include a pathway with plants along the border leading to benches and picnic tables for people to sit and have a good time with friends.