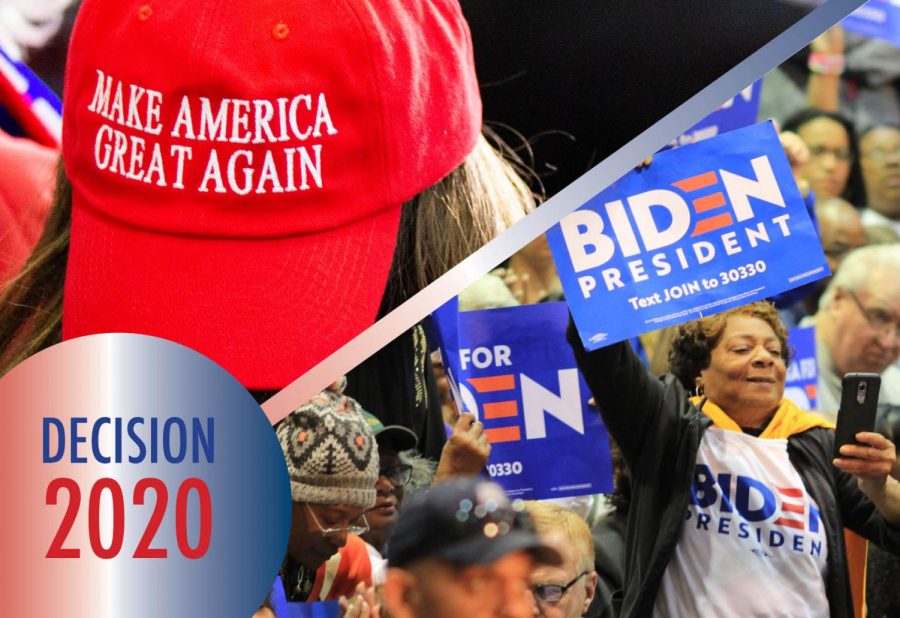 Photo by Nikolas Liepins and Carter Marks, Royals Media. Photo illustration by Vanessa Martinez.
A Swinging Nation
Election results are far from final, but here is where we stand on several key national and local races
After four years of what seemed like constant campaigning, Election Day is back. Weeks of early in-person and mail-in voting has created record-breaking voter turnout in El Paso.  At the time of publication, here are the partial and predicted results, as the entire nation sits in angst and anxiety. Here's where we stand right now. 
An unprecedented amount of mail-in ballots, turned in to prevent the spread of COVID-19, means that results may take longer than expected. It could take a couple of days for all the ballots to be counted correctly and results to finally be posted. 
"I was very disappointed to find out we would not hear the results until a couple of days,"  junior Oscar Medina said. "I hate the idea of having to sit in angst and only hope for the best." 
"
"I was very disappointed to find out we would not hear the results until a couple of days. I hate the idea of having to sit in angst and only hope for the best."
— Oscar Medina, junior
According to the Associated Press, the presidential election results are coming into focus, even though several key states still have votes to count. According to the AP, Democratic candidate and former Vice President Joe Biden is tied with Republican candidate President Donald Trump, with the electoral vote ratio at 209 to 209, with Texas' 38 electoral votes going to Trump. Candidates need 270 electoral votes to win the presidency.
"As a supporter for Biden, I was content with the current state of the electoral vote," junior Isabella Flores said. "It's not only benefiting me as a woman and minority, but our democracy as a whole." 
On the state level, ABC News reported 52 percent of Texans voted for Trump, while 46 percent voted for Biden, with 96 percent of the votes counted. On the local level, 69 percent of El Pasoans voted for Biden, with only 31 percent voting for Trump. That result is not a surprise in El Paso, which has been a blue enclave in a sea of red in Texas.
"I was not surprised at the voter turnout in El Paso," sophomore Abraham Cabada said. "The people of  El Paso are very outspoken about their political opinions which told me an overwhelming majority would vote for Biden."
Local elections in El Paso are also beginning to show numbers as well. According to the El Paso Times, Democratic Congresswoman Veronica Escobar was victorious in her re-election after winning 65.19 percent of the votes. Additionally, it's interesting to note that former El Paso Mayor Oscar Leeser has taken the lead against incumbent Mayor Dee Margo with 43 percent of the votes. To win the election, Leeser would need 50 percent, plus one vote to win. Considering there are six candidates for mayor, it is predicted that a run-off election will take place in mid-December between Margo and Leeser.
Finally, City Councilman Henry Rivera leads District 7 after obtaining 57 percent of votes. 
"I was not surprised to see that Veronica Escobar was leading in the polls," senior Amaya Flores said. "Having previously attended Escobar's town halls and working closely with her, I saw the support she had by many members of El Paso."
It is undeniable to note that every second of this election has made history. The voter turnout this year was groundbreaking with nearly 100 million Americans casting their vote before Nov. 3.  As ballots continue to be counted, the future of our nation is soon to be decided. 
"Whichever candidate wins or loses, [he] will not be paying your bills or living through your shoes," senior Micheal Macias said. "Whatever the results end up being, I think our nation needs to remember that we either stand united or fall divided."