Students purchase gifts for 200 children
Aztecs learn true meaning of Christmas with Aztec Angel, Salvation Army toy drive
During this time of year when most Christmas trees are surrounded by dozens of gifts, some children aren't as fortunate. To help the need in the community, El Dorado High School partnered with the Salvation Army for the annual Aztec Angel program.
Every year the student council committee is in charge of organizing the Aztec Angel donation drive. Classes, clubs and programs adopt "angels," children from disadvantage homes, to buy a present and warm clothes for. This year, the yearbook staff adopted a girl and boy. By pulling their money together, the club bought a bike, along with several other gifts for their Aztec Angels. 
"It's the right reasons for the holiday," yearbook adviser Vanessa Martinez said. "This is an opportunity that we can count on and students can look toward every year to know, this is the time of year we want to give to children."
Student Council President Viviana Zambrano took the lead on this special project, stepping in to help Student Activities Director Amy Ramos, who was out sick. Members like Victoria Sanchez, Christopher Sanchez and Kevin Rodriguez personally loaded over 200 gifts in their cars and drove to the Salvation Army to deliver the donations. They had the opportunity to take a first-hand look at the operation. 
"It was a really beautiful experience, especially when we went to the Salvation Army to go drop them off because this year the Salvation Army is so short on drivers," Zambrano said. "We went to drop off the gifts ourselves and it was amazing to see how many gifts were donated."
The Aztec Angel program collected over 200 presents for children in need this year. Amongst the donations some of the more surprising presents were bikes, a play kitchen set and an Amazon Fire Kindle tablet. Through a difficult time like this, the El Dorado campus was still able to make a difference in their community and donate a tremendous amount of gifts to the less fortunate children in El Paso.
About the Contributor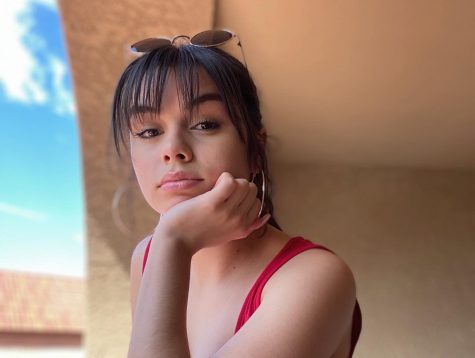 Andreana Cadena, '22 Photo Editor
Andreana Acuña, better known as Andy, just recently joined the yearbook team as photo editor and could not be more excited to be a part of the team. Andy is currently a junior. She is also a member of the National Honor Society this year. You can usually catch Andy at social events or on the wrestling mat. This year will be Andy's third year on the varsity wrestling team. Unlike last year, she will be wrestling in the weight class 119. If she's not at school, you can probably catch her practicing new makeup looks and maybe even recording a new YouTube video. When able to, Andy loves to be out and active, with her friends and family.