It's all about growth for budding YouTuber
Staring into the back camera of her phone, senior Elizabeth Blocker greets her viewers saying, "Hey guys, welcome back to my channel."
During the crazy times of Blocker's quarantine, she was inspired to finally start her lifelong dream of creating and running a YouTube channel. Blocker's vision for her channel was to create a safe space where she and her viewers could express themselves.
"I have a lot of feelings and emotions that I go through and I know that there are others who feel the same," Blocker said. "I know that there are people out there who just need that safe space to express themselves without worrying about what other people would think."
Blocker's favorite content to create includes topics on emotion and growth. She helps her audience connect with her on a personal level and gives her best advice to guide them. 
"We go through a lot of lessons and experiences and I make the videos that I make so that they know that their feelings are completely valid," Blocker said

At a young age, Blocker spent a lot of her time watching YouTube videos when she was bored and looking for entertainment. This eventually blossomed into a dream of having a channel of her own.
"I loved watching other Youtubers when I was younger. I always wanted to be like them and better," Blocker said. "So I combined that with my need to inspire and uplift. I started my journey."

Blocker, who has 100 subscribers and six videos posted since February 2021, is aiming to build a community with the platform she now has. Although small, she is currently making efforts to expand her channel in terms of subscribers and the amount of content she creates.
"I have visions and ideas that I plan on creating that will unfold as time goes by," Blocker said. "With the pressure of school just beginning, I am making it my goal to experiment with my content." 
About the Contributor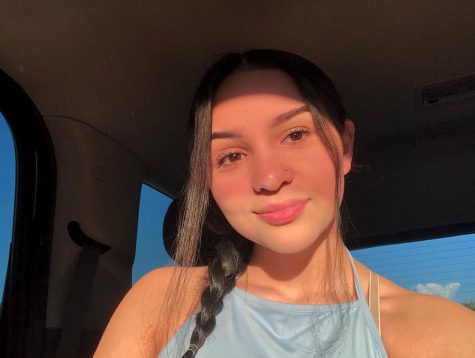 Nahomi Magallanes, '22 Staffer
Nahomi Magallanes
, a junior at El Dorado High School,
h
as been on the yearbook staff for two years.
She has learned a lot of skills in those two years. Last year,
she covered the JV football team, the freshmen section and the dance team. S
he enjoyed covering those pages. She still wants to cover the foot
ball page this 
year and
enjoys going to the games and taking pictures of happy moments between the players.
Nahomi is a basketball player and runs
track.
She likes to draw and listen to 
music.
Also,
 she wants to become a 
cognitive behavioral 
therapist.
Her dream is to continue
playing basketball and earn an athletic scholarship.