Give Me My Flowers: The T.O.Y. Story
On and off the court, 2023 Teacher of the Year Tyronne Burns shows how to show empathy and compassion to everyone around him.
Echoes of silence and anticipation fill the building as principal Venessa Betancourt announces teacher of the year on Jan. 6 during afternoon announcements. Runner-up Rosa Harding, the IB coordinator, was announced first before Betancourt announced Tyronne Burns as the 2023 teacher of the year.
Burns, the girl's varsity basketball coach, had previously been named coach of the year in 2015 as he took his team all the to the Elite Eight. However, being teacher of the year meant something else to him: defining his ability amongst colleagues. Being both a coach and teacher, Burns experiences different dynamics of students in and out of the classroom. 
"They go hand in hand and you grow into each," Burns said. "It involves all the work and everything you put into it, collaborating with colleagues and sharing ideas, thoughts and reflecting."
At first, the award took Burns by surprise. When the nominations were revealed, Burns initially brushed it off, not realizing that he would later be voted as the teacher of the year, outpacing like-minded educators such as Harding and Jacob Ramirez, the student activities director, in the teacher-exclusive ballot. 
"I always envisioned teachers that taught core subjects like IB classes, early college, would receive the award," Burns said. "That's the perception I always had."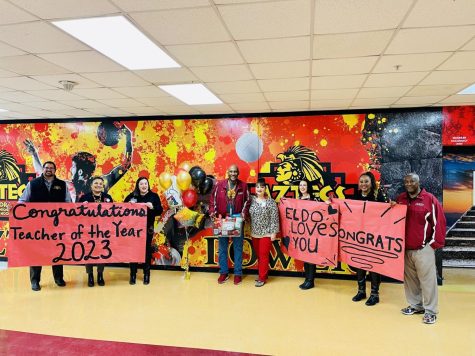 Before receiving his TOY award with a bouquet of flowers from the administration team, Burns reflected on his late high school coach's funeral, who passed prior to his award. Seeing how everyone sent flowers to the family and honored his life's achievements rather than mourning changed his perception on how he acknowledges his students.
"I realized that when we die, it's more about celebrating their life than focusing on their death," Burns said. "They have all these good things to say but I always thought, 'did he ever know that while he was alive?' Everybody wants to send flowers to the funeral home, but what good does it do now that they're gone?"
As he became one of the few special education teachers to win TOY, Burns was a diamond in the rough during his school days. Faithful, promising and patient, with a heart of gold that shined bright, a teacher approached Burns with an opportunity that charted a course to become one of the brightest teachers in El Dorado.
"One of my former teachers, Ms. Bonnie Crawford, recommended that I get into an alternative certification program and become a special-ed teacher," Burns said. "She said to me, 'you're a real soft spoken, patient person and I think that would be a good fit for you.'"
As Crawford did for Burns when he was a high school student, Burns strives to make an impact on his students; keeping a running binder, full of every email, letter and drawings students have made for him. Meticulously printing, page-protecting and admiring every piece of mail that comes his way, Burns keeps it right on his desk to reminisce over and add-on every once in a while.
"I'll take the time and I'll go through and read every single thing in here, just to make sure I stay focused on what I need to do," Burns said. "If you don't have those relationships and they know you don't care, it's hard to get them to buy into what you're trying to do."
As Burns reflected on his teaching career, with all the students he taught and how he changed their perspectives on life in immeasurable ways, and on his coaching career, bringing the Lady Aztecs to the Elite Eight UIL Semifinals, he rekindled his love for teaching and established that his way of compassion would never change.
"I'm blessed, I'm always blessed, this is a great profession to be in. It's not always about the money," Burns said. "It's about when the athletes or students that come back and have kind words to say to you years later or they see you in the streets or the supermarket or something and they reminisce a little bit about how much fun it was. That's the most rewarding part of it for me."
About the Contributors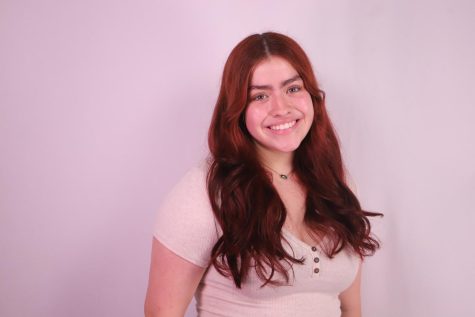 Sophia Schueren, Sports and Stats Editor
Sophia Schueren is the Scores and Stats Editor for the 2023 edition of The Legend Yearbook. 
She enjoys covering stories on teachers, volleyball and horoscopes. She has been on staff for one year. When she is not in yearbook, she is hanging out with her friends.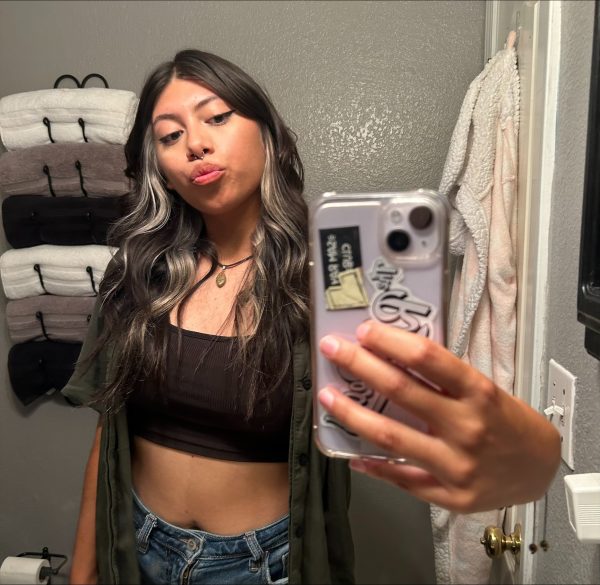 Iolany Martinez, Photo Editor
Iolany Martinez is a second-year photo editor for The Legend Yearbook and Aztec Gold Online News. She has been on staff for three years. She enjoys hanging out with friends, taking photos and listening to music. When she is not taking photos of athletes, you can find her helping the community through National Honor Society or going to local artist's concerts.