Track Relay Team Breaks Record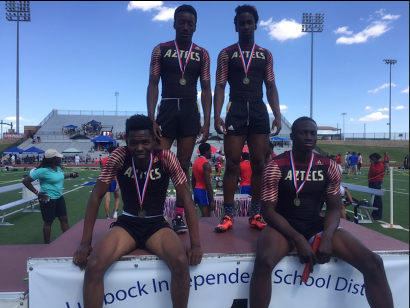 By Isayah Garner
The El Dorado Aztec team competed this past weekend in the District 1-6A Area
championship track meet and set a new area record for the 4×100 relay. The varsity team,
made up of senior Nicholas King, sophomore Cedarious Barfield and juniors Demaijah
Birdsong and Tyquez Hampton, not only came in first place, but did it in 41.71 seconds.
In addition, Birdsong became the 100-meter area champion. On the girls team, senior
Jahyda Dixon became the 100-meter and 200-meter champion, breaking the area record
for the 100-meter race.
In the field section, senior Isaac Ehler, got first in discus, and third in shot put, while
junior Brendan Thompson got fourth in discus as well. Junior Idalys Diharce got second
in discus also. All of the athletes who placed at the area meet will now go on to compete
at the regional championships, where they have the chance to qualify for state.
[su_youtube url="http://www.youtube.com/watch?v=50nIrkcckKo&sns=em"]