Beloved Brown says farewell to Aztecs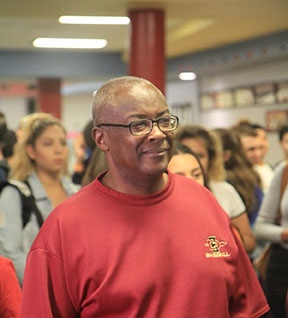 By Ariana Contreras
Assistant Principal Derrick Brown will be closing yet another very important chapter in his life. Today, August 19, is Brown's last day at El Dorado. Brown will be taking his hard work to Eastlake High School.
"He's the sweetest," said senior Danielle Miller. "One time when I was walking back from getting my breakfast he saw that I had dropped my spoon as I was walking into the yearbook room, and later on he walked into the room with a box of spoons he had gone back to get from his office."
Brown has been an educator for 33 years, and has worked at El Dorado for the past four years. Having worked so long in this profession, he's been able to experience great relationships with not only teachers, but students.
"I think the most positive thing I hear is when I former students say you were my principal. They don't say you were the principal, they say you were my principal." Brown said. "It makes me feel good, it makes me feel like I impacted them in a good way, that they still feel that bond."
Every school is different in their own way, and Brown has gained unique memories and experiences here at El Dorado.
"My best memories are really just being around students," Brown said. "It's just a cool thing to watch the seniors at pep rallies. You watch them from when they first get here and then all of a sudden they're seniors and when they turn around to do their little thing (the hand symbol of the triangle) and you get to see the excitement of knowing it's their last year and they're trying to make the most of it. It's great."
This morning, the lobby was filled with everyone from students and cheerleaders, to administration, all in honor of Brown. A morning rally was held to send him off in high spirits and thank him for everything he's done for El Dorado.
Brown will start at Eastlake on Monday morning. He is being relocated due to the declining student population.