Teacher helps student pull off HOCO proposal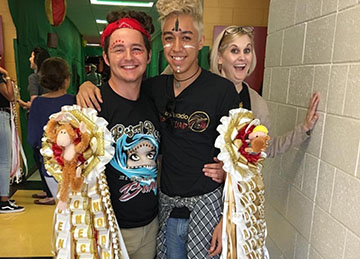 By Evelyn Garibay
'Tis the season for cooler weather, Friday night football games and most importantly witnessing homecoming proposals all over the place – whether it's at school or on social media.
Homecoming was held last week and is a tradition to welcome back students. It's kind of like the younger sibling of prom.
This year's theme was none other than "The Wizard of Oz," and El Dorado made a point of bringing back school spirit by decorating the halls as different scenes from the movie and dressing up for spirit week.
Getting the creative juices flowing for this exciting time of the month also allowed unique homecoming proposals to be presented. Amongst all of them senior Noah Lander's cute 'Kahoot' homecoming proposal to best friend Benjamin Martinez stood out.
"He knew I was asking him, but not when, where or how," Lander said. "A friend and I were throwing out ideas and she came up with a game proposal. That's how we came up with Kahoot."
It took Lander a day to plan it out and on the day of, asked English Teacher Greta Brasgalla to help him make the game and display it as a Kahoot for the class so Martinez wouldn't think of it being a proposal.
"I was super nervous because I was doing it in front of the whole class," Lander said. "After asking, I tried to calm down but instead I was shaking because the adrenaline was still pumping."
Nonetheless, who could say no to such a cute way of asking? Martinez said yes and they both attended the homecoming dance on Saturday.
"It was so much fun," Lander said. "Anyone who didn't attend should have, it was one for the books."