Crowd comes to Fall Fest despite cold weather
Community members, families and students came out to the annual Aztec Fall Festival on Nov. 16 to enjoy food, games and vendor booths, despite the cold temperatures. This year, over twenty groups and organizations participated in the fall festival, giving students and families a wonderful night to remember.        
"It's a fun time for the community to come around and get together to have some fun on a Friday night," said Student Activities Director Terrie Maya.                                       
Visitors satisfied their appetites with delicious foods such as papas locas, candy apples, tacos, and much more from students organizations like robotics, FLS, football boosters and TAFE.
There were lots of games like balloon darts, soda ring toss and bucket ball. Student Council also hosted a jumping balloon, bucking bronco and boxing ring.
"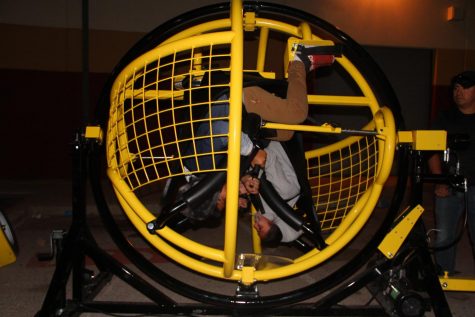 "Last year, we only had the jumping balloon and the boxing ring, but this year we are trying some new ones like the bull ride and gyro sphere,"

— Natalie Tinajero

.

The fun did not stop there. Students admired the magic under the hood at the car show, hosted by the auto tech class. Different models were on display for everyone to see.

"We started with the car show last year, and it's been bringing in a lot of interest," Maya said.

The lines were long for the petting zoo, hosted by the FFA. Students were able to spend time with goats, a horse and piglet.