El Dorado Aztecs Defeat Eastlake Falcons At Home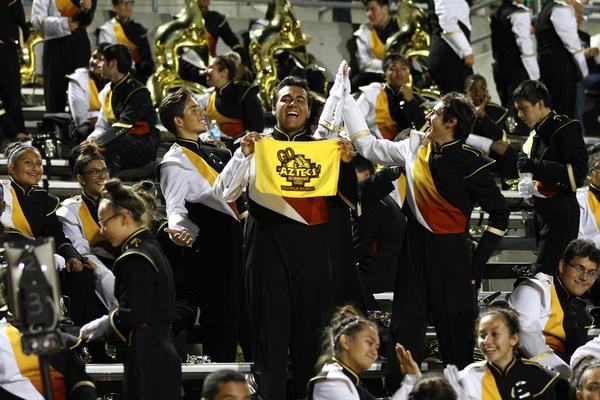 By Andrea Martinez
 Kicking off the season, everybody had questions on how El Dorado's offense would respond under the system of new offensive coordinator Scott Veliz. With injuries to starting left tackle Jared Mendoza and guard Christian De La Cruz, limiting the depth of the O-Line, some questioned how strong this offensive line would be coming in.
 There was no problem.
 The El Dorado Aztecs lead the first half with a score of 42-21 with a high explosive offense, along with 6 touchdowns coming by players Jorge Hernandez, Sergio Gonzalez, Tyquez Hampton and Cameron Covington.
 "The first half did go as I had expected. There were a few mistakes, but it's not over yet," Veliz said at halftime. "We just have to keep pushing it for the next half as well."
 With the start of the second half the momentum continued. The Eastlake Falcons scored first, but the Aztecs continued the pressure. They were able remain in the lead with a score of 70-42 at the end of the third quarter.
 The final quarter contained one touchdown by the Falcons. Too far apart to catch up, the final score came about to be 70-49, making it El Dorado's first win of the season. After an incredible offensive performance, we'll see how this offense will prevail against the Frenship Tigers next week in Wolforth, Texas.
 For full game statistics go to http://www.maxpreps.com/high-schools/el-dorado-aztecs-(el-paso,tx)/football/stats_season_totals.htm