Know the Aztecs: Cynthia Retana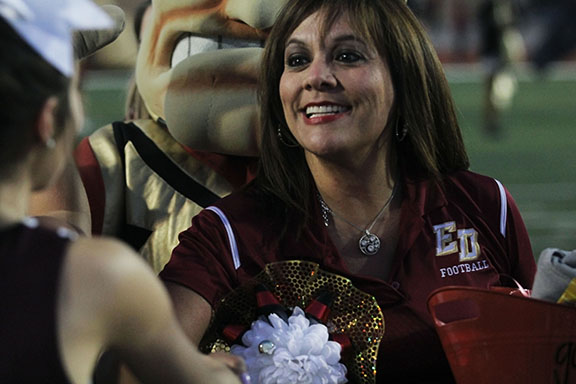 Know the Aztecs: Cynthia Retana
By Erik Antwan Bustillos
Photo by Kacee Munoz
As a student, El Dorado's very own principal Cynthia Retana decided to commit to a career in education and hasn't looked back since. As an El Paso native, she was proud to attend and graduate from Eastwood High School. She continued her education at the University Texas of El Paso, and soon after she went to get her masters degree in counseling from UTEP.

Aztec Gold: What was your goal in high school?
Cynthia Retana: When I was in high school, it was a different time. I don't remember them (staff), talking to students about going to college or our career goals. When I graduated, my friends and I were like, "Let's go to college." So, we drove to UTEP, applied, and then got in.
AG: Did you have a set major when you were attending UTEP?
CR: I didn't have a set major. I remember the year I wanted to attend UTEP, you only had so many hours to decide on your degree plan and you couldn't register until knowing what you wanted to major in.
AG: In high school, was there anything that prefaced your career in education?
CR: I never really thought I wanted to be an educator in high school. It wasn't until college that I got on that path.
AG: What did your career look like right after graduation?
CR: When I graduated from college, I wanted the best job and to make millions of dollars. I had actually been hired before I graduated college, because there was such a need for bi-lingual teachers in the San Elizario district. Overall, it wasn't a fit for me but I learned a lot. When I graduated college, I really thought my whole world was going to be focusing on elementary education.
AG: Tell us more about where your career has taken you.
CR: I started out at Montwood High School. I worked half of the day at an elementary, but then, Americas High School opened up so I spent the other half of my time there. Soon after, I ended up staying for seven years as a teacher and counselor. An opportunity as assistant principal opened up at Socorro Middle School and I taught there for two years. Later on, I was hired as a principal for the first time every at McArthur – which was a kindergarten through eighth grade school and then moved over to Hernando Middle for three years.
AG: How was your experience at Americas?
CR: During my years at Americas, my assistant principals saw leadership qualities within me. Once I became a department chair, I began to pursue my Masters Degree in Counseling through UTEP.
AG: Overall, what is the importance of education?
CR: I've lived an amazing life through education. My life was transformed by it. I tell my kids, it's true education that transforms a person. I love my job and being an educator. When I look back to my college adviser, I'm so grateful I made the decision that one day it was going to guide my whole life. One thing I always tell people is, be bold don't limit yourself out of fear because that decision could cripple your whole life. So, stand up to your fear, take risks and more then anything, be resilient. You're going to have lots of setbacks. And, some people who are successful in life are the ones who jump up from those sets backs.
You can't let that set back or that punch keep you down.