El Dorado Aztecs muzzle Socorro Bulldogs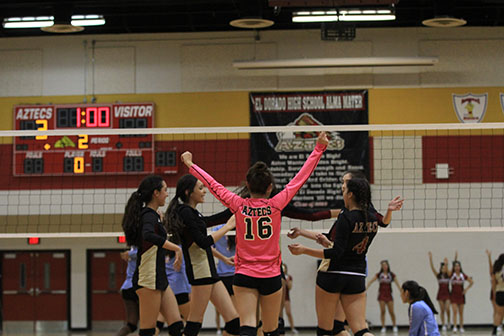 El Dorado Aztecs muzzle Socorro Bulldogs
By Alex Thompson, Sports Editor
The lady Aztecs made quick work of the crumbling Bulldogs Friday night at El Dorado High School by winning in three straight sets. The score lists as followed: El Dorado 25-14, El Dorado 25-13, and El Dorado 25-15. The Aztecs improved to 3-0 on the season.
The lady Aztecs made it seem like practice during the game and followed the lead of senior Victoria Pearson. She had 18 kills matched to the second most on the team of only four.
"We are such a middle dominant team that they can predict where we're going to go," said Pearson on how Socorro was able to surprisingly dig up their kills. "That's why we're trying to move me and Ebony around, so they won't be able to see it coming. Running slides and threes."
Coach Roel De Anda wants to display new strategies, so they can be unpredictable in the coming games. Pearson is the target of many other teams, yet with De Anda's tactics in place, she can be an effective weapon.
Even junior Clarissa Menchaca dug up 22 of the existing 76 digs, demonstrating a brutal defense to work against. Menchaca is the team's middle blocker/libero and is key at defending serves, spikes, and other offensive shots thrown at them.
The team also has freshman Paige Mcgriff on the squad.
"I was really intimidated at first, but the girls are very welcoming," aid Mcgriff said. "(Coach) puts a lot of pressure on me, but I know it's for a good reason and not because I'm a freshman."
Mcgriff showed some solid work out there. Being able to compete at the varsity level seems rough, but Mcgriff plays with fluency and ease with the support of her team.
Next up are the Franklin Cougars at 6:30 p.m. on Tuesday at El Dorado High School. This is a match to test the might of the Aztecs against the presiding Cougars.
"If I play my hardest I know we'll do well and this year I'm more confident because we've come together as a team more," Pearson said. "That's going to help us push through and keep fighting."