First-gen Aztec finds right fit in high school
Senior Keidy Palma appreciates the sacrifices and opportunities given to her by parents
From facing hardships as a first-generation American to trying to fit in with the culture in high school, senior Keidy Palma focused on her triumphs throughout her school career.
Palma, who is one of the copy editors for El Dorado's The Legend said that, at first, she had some trouble trying to fit in at El Dorado.
"You know, when you enter high school, you're just surrounded by a bunch of people and you want to fit in," Palma said. "You want to be cool, I guess, you want to please the people around you."
As Palma progressed throughout, she later joined many honored programs such as the IB Diploma Programme and National Honor Society.
"Even in freshman year, I think I was still not as academically inclined," Palma said. "I mean, I didn't join yearbook until at the end of, like, my sophomore year."
Carrying an impressive resume on her back, she still tracks back to her roots across the border. Palma's parents arrived in the United States without documents and the challenges of being a first-gen American have shaped her. 
"I just went through a realization during middle school about all of the privileges that I have as an American citizen," Palma said. "Coming from a family of immigrants who didn't have the same opportunities as me and being a first-generation American inspired me to take charge of my future and do everything that I could."
Despite every obstacle Palma had to jump through, she believes there is more growth to come. Reflecting on her past experiences, she said that each experience you live plays "a role in who you are and who you're becoming."
"I genuinely wouldn't change anything that I went through," she said. "I may not have had everything, but I've had enough. I think I'm okay with the life that I've lived and everything that has brought me to this point right now."
About the Contributor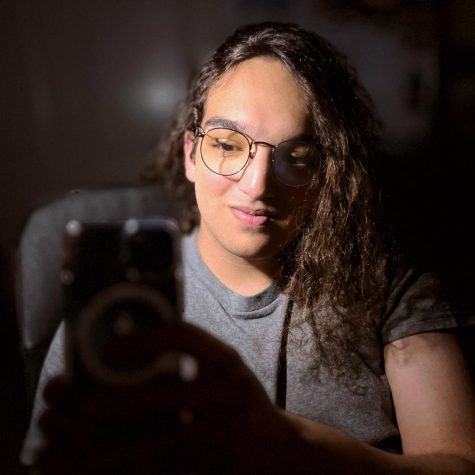 Brenden Malacara, Editor-In-Chief
Brenden Malacara is the senior Editor-in-Chief for Aztec Gold Online News and The Legend Yearbook at El Dorado High School. They enjoy covering stories about politics, government and identity. They has been on staff for two years. They have also covered football games and the Socorro ISD board meetings for Aztec Gold Online News.