test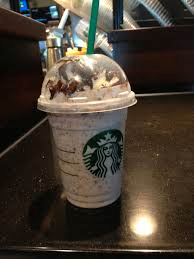 What's Starbucks' Secret?
By Amanda Marquez
So we all know everyone loves Starbucks, but did you know about the secret menu? Well it's not a secret to the Aztecs anymore; see the list below to see the Top 10 Most Popular Frappuccino's ordered from the secret menu according to http://starbuckssecretmenu.net/ and see how to order them at your local Starbucks too. Credit and creation of these recipes goes to http://starbuckssecretmenu.net/, a website by fans, for fans of Starbucks coffee.
My favorite would absolutely have to be the Oreo Frappuccino. You can taste cookies in every sip and it is definitely the drink to choose if you need to satisfy your sweet tooth. This drink was around $5 and every gulp was well worth it!
Cotton Candy Frappuccino
1. Vanilla Bean Frappuccino
2. Add Raspberry Syrup (1 pump tall, 1.5 pumps grande, 2 pumps venti)
Cookie Dough Frappuccino
1. Cinnamon Dolce Creme Frappuccino
2. Add mocha syrup (1 pump tall, 2 pumps grande, 3 pumps venti)
3. Java chips blended in
4. Top with cookie crumble and chocolate whip
Twix Frappuccino
1. Caramel Frappuccino
2. Add hazelnut syrup (1 pump for a tall, 1.5 pumps for grande, 2 pumps for venti)
3. Add java chips
4. Whip cream blended in
5. Coat the cup with caramel sauce
6. Top with mocha drizzle
Red Velvet Frappuccino
1. Half White Mocha/Half regular Mocha Frappuccino
2. Add raspberry syrup (1 pump tall, 2 grande, 3 venti)
3. Blend and top with whipped cream!
Butter Beer Frappuccino
1. Ask for a Crème Frappuccino base. Don't skimp on the fat by asking for skim or 2% milk as whole milk is required for the right consistency
2. Add 3 pumps of caramel syrup
3. Add 3 pumps of toffee nut syrup
4. Top with caramel drizzle
S'mores Fappuccino
1. Java Chip Frappuccino (or double chocolate chip if preferred)
2. 1 pump of Cinnamon Dolce syrup
3. 1 pump of Toffee Nut syrup
4. Whipped cream blended in
5. Top with whipped cream and Cinnamon Dolce sprinkles
Ferrero Rocher Frappuccino
1. Double Chocolate Chip Frappuccino or Java Chip Frappuccino if preferred
2. Add Mocha Syrup (2 pumps for a tall, 3 for a grande, 3.5 for a venti)
3. Add Hazelnut Syrup ( 1 pump for a tall, 1.5 for a grande, 2 for a venti)
4. Add Hazelnut drizzle
5. Top with whipped cream
Birthday Cake Frappuccino
1. Vanilla Bean Frappuccino
2. Add Hazelnut Syrup (1 pump tall, 1.5 pumps grande, 2 pumps venti)
Oreo Frappuccino
1. Double Chocolate Chip Frappuccino
2. Blended with white mocha sauce instead of regular mocha
3. Top with your choice of chocolate or regular whipped cream
Captain Crunch Frappuccino
1. Strawberries and Creme Frappuccino
2. Add caramel syrup (1/2 pump for a tall, 1 pump for grande, 1.5 pumps for venti)
3. Add toffee syrup (1 pump tall, 1.5 pumps grande, 2 pumps venti)
4. Add hazelnut syrup (1/2 pump for a tall, 1 pump for grande, 1.5 pumps for venti)
5. Optional: Add java chips if you want some crunch