Boys squeeze past Rams 43-38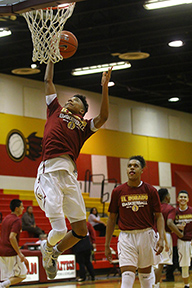 By Isayah Garner / Photo by Isabella Engkilterra
Tuesday night the El Dorado Aztecs took on the Montwood Rams in a District 1-6A showdown. Coming into this game, the Aztecs had a perfect winning streak at home, and it seemed as though that would continue.
And it did. The Aztecs closely outscored the Rams 43-38.
 The start of the game was a real defensive matchup, with both teams scoring less than ten points midway through the first quarter. Eldo struggled to get any consistency, getting blocked on at least six different possessions in the first half. Montwood went on a scoring spree to end the half.
 The second half was a completely different story, with the Aztecs capitalizing on offensive rebounds, second chance points and points off turnovers, bringing the fans to their feet. After late free throws by senior Torian Jordan, the Aztecs came out victorious. The outcome being 43-38, the Aztecs received their first district win, and improved their overall record to 10-4. The next game for the Aztecs is against the Socorro Bulldogs at 7:15 p.m. at Socorro High school on Friday.