Soccer at the SAC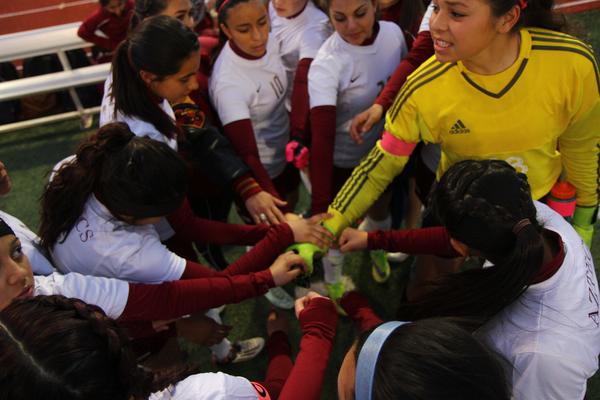 New talent helps Aztecs come out on top
By Ariana Contreras and Lorenzino Estrada
The Lady Aztecs played Monday against San Elizario and came out strong. In the first half, the ladies scored two goals. One was made by freshman Natalie Gonzalez, and the other made by sophomore Allison Kendrick. While the eagles scored one point, the girls were still determined. Coach Pedro Enriquez pushed the girls the whole way through the first half of the game.
"We need to continue touching the ball, moving the ball forward towards the goal and finishing shots," Enriquez said during halftime.
After the first half, the girls came back and fought harder than ever. Being in the lead they pushed to finish with an even bigger advantage. About twenty minutes into the second half,
freshman Gonzalez scored the third goal, finishing the game 3-2.
"We did some good things but we have room for improvement," Enriquez said.
By the looks of it, there's some very good, young talent on this year's team, and they have the entire rest of the season to improve. The Lady Aztecs are in for a good season. The girls play at 7 p.m. this Friday at Eastwood. Make sure to go out and support the girls soccer team.