Russ packs Tricky Falls for 'Yung God'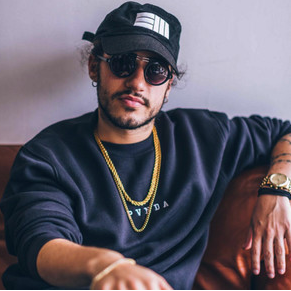 Russ packs Tricky Falls for 'Yung God'
By Ernesto De Haro
When I arrived at Tricky Falls, I felt nothing but chill vibes surrounding me and the other excited fans hanging around the entrance. All I heard were people talking about how great it would be to see hip-hop music artist Russ Vitale also known as, "Russ." He's experienced one of the fastest growing careers this year and came to El Paso as part of his "Yung God" tour on Oct. 25.
Hundreds of people lined up, filling the theater to complete capacity. Anxiousness arose as Russ took a while to come out. The crowd started yelling, "we want Russ!"
As time counted down, everyone started to get rowdy, but once the sound of his hit song "Losing Control" came on – the crowd erupted in roars. Hands waved from left to right, there was head banging, and dancing as everyone moved to the harmony, unique beats and the sound of his soothing voice.
Russ was cool as ever on stage, wearing a UTEP jersey, jeans and a hat. Pumped up El Pasoans eagerly tried moving closer to the stage. Throughout the show, Russ talked about his life, his come up and how everything doesn't revolve around money. Before every song, Russ would tell the meaning of the song he was about to sing. I felt the emotion in each verse; it felt as if every song he performed allowed me to share in the experience of what he has gone through. His authentic and genuine story telling through song was incredible.
Set after set, he coordinated the crowd very well. He gave a memorable performance that would win over even first-time listeners of his music. Not only was it his voice, but the feeling of the bass shaking my whole being left me in awe.
During one of his songs he suddenly stopped singing due to some concertgoers fighting. Russ nodded his head and approached them. Speaking through the microphone, he addressed the situation and in disappointment gave a brief speech about respect. Then it was onto the next song. His concert expressed who he really is, he told his crowd his purpose and how he actually went to college, unlike other rappers. Leaving part of him here in El Paso, Russ got much love from his followers.
Toward the end of the show, the crowd felt content with what we had just witnessed; and to end the night – he closed with his most popular song "What They Want."
It was inspiring to see how he has grown as an artist over the past tear, leading up the charts in various Billboard spots. I hope he comes back to El Paso soon to throw another spectacular show.