The Nation Mourns 18th School Shooting of 2018
By Ariana Arredondo, Aztec Gold Editor-In-Chief
Expelled, armed and possibly disturbed former student Nikolas Cruz walked into Marjory Stoneman Douglas High School in Parkland, Florida on Feb. 14 with a rifle and an unknown motive to harm others.
"So many signs that the Florida shooter was mentally disturbed, even expelled from school for bad and erratic behavior," President Donald Trump tweeted. "Neighbors and classmates knew he was a big problem. Must always report such instances to authorities, again and again!"
17 deceased. 14 more injured. The 18th shooting of the year; 45 days into 2018. And this is the deadliest school shooting in the United States since the Sandy Hook Elementary school shooting in 2012.
"Are we coming to expect these mass shootings to be routine?" Congressman Bill Nelson said. "And then after every one we say. 'enough is enough' and then it continues to happen?"
Since the shooting of Columbine High School in 1999 there have been a total of 25 fatal school massacres. It has become a norm for students at every grade level to practice lockdown drills in preparation for such threats. We have adapted to this danger the same way we have to fires and gas leakages.
The day of the massacre, Cruz pulled the fire alarm and shot countless bullets into the crowd of students filing out of the building, then later walked in and shot into classrooms filled with cowering teachers and students.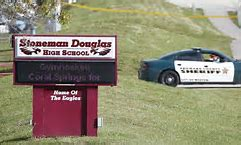 These are just 13 of the 17 released names of those who were victims of the Feb. 14 shooting. Cruz's arraignment was held on Feb. 15 where he was charged with 17 counts of murder (subject to change).
Peter Wang
Nicholas Dworet
Luke Hoyer
Alaina Petty
Jamie Guttenberg
Alex Schachter
Martin Duque
Alyssa Alhadaf
Helena Ramsey
Scott J. Beigel
Joaquin Oliver
Cara Loughran
Coach Aaron Feis
This morning, El Dorado High School Student Council President Iliana Garcia announced that she and other members of student council will have a giant card that students can sign for Douglas High School during both lunches. El Dorado students may also submit personal letters to the survivors and families affected by the shooting in Parkland to the Student Council during lunch.
"One week ago today, a horrific tragedy happened at Douglas High School in Parkland, Florida. As fellow high school students, our hearts and thoughts go out to all of the students at Douglas High," Garcia said on the morning announcements.
Sources: https://www.usatoday.com/story/news/nation/2018/02/15/fox-news-anchor-shepard-smith-emotionally-lists-all-25-fatal-school-shootings-since-columbine/340108002/
https://www.theguardian.com/world/2018/feb/14/school-shootings-in-america-2018-how-many-so-far
https://www.cnn.com/2018/02/15/politics/trump-parkland-response/index.html