Gazpacho Soup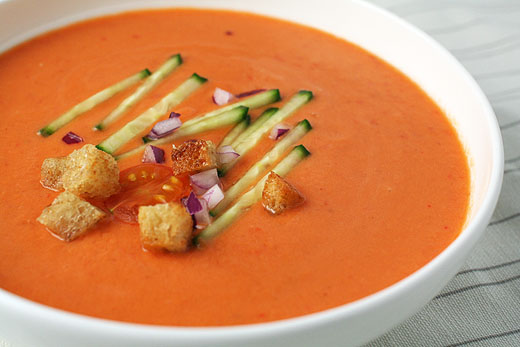 Healthy Corner: Gazpacho Soup
By Claudia Juarez
Many vegetarians and vegans face similar problems when it comes to finding delicious meals. When finding comfort food that abides by their diet, it often takes forever to find; but with enough tomatoes and spices, cold vegetarian soup is a great success.
Ingredients you'll need are:
6 large ice cubes
6 medium-sized ripe tomatoes
2 medium-sized seedless cucumbers
1 cup of fresh corn kernels
½ cup of fresh cilantro leaves
2 teaspoons of lime juice
¾ a teaspoon of salt
¼ a teaspoon of ground black pepper
Hot pepper sauce optional), mostly to add a bit of flavor to the soup
Lime wedges to garnish the overall meal
Steps:
With a food processor or knife (depending on your preference), you will need to chop up all ingredients – excluding the lime wedges. And once finished, combine all of your ingredients.
Once finished, add the bread and season well with salt and pepper; and leave the batch to marinade for at least 30 minutes or overnight if you want.
Put the mixture into a blender and whip until smooth. Once finished blending, check the consistency. (If it is still rather thick and not very rich, add another cup or two of olive oil) Until you reach a consistency you desire.
Taste and adjust the seasoning as necessary. You might need a little more vinegar. Cover and chill again, until really cold and you're ready to serve.
Add lime wedges for garnish and salt and pepper if desired.
If not served right away, cover and refrigerate for another day. This will preserve the soup's cold consistency and the ingredients.