Get to Know the Aztecs: Gerald Murillo, 11
Rhythmic taps fill the air of the El Dorado choir room as drumline sets up and begins to practice,  as they do every Saturday. Looking around the room at concentrated faces and steady forms, it's easy to pick out the students who have a deep bond to their instrument because it's been with them their whole life. That's the case for junior band member Gerald Murillo.
"I play the drum set. I've been playing for 13 years now and have been an overall percussionist for 6," Murillo said. "It's basically one of the only things I do in my spare time since I was introduced to it."
Murillo has a strong bond with the drums and all-round percussion since he first discovered his love of drums from his father, who played the drums in high school. Even though he now dedicates a major portion of his life to dru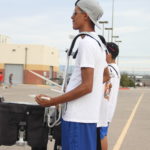 m line, years before he never would have imagined that he'd be a part of a school marching band.
"In the sixth grade, I never thought I would but I actually joined band and that's when things got really tough," Murillo said. "I was still dealing with my school life collapsing and that affected my eligibility for band."
When Murillo was diagnosed with ADHD in fifth grade, school became an everyday challenge due to his inability to focus in class and stay in his seat. Throughout the years, Murillo has learned to channel all of his restlessness into playing the drums. Slowly, he has found the balance between school and band. He started fresh his sophomore year and is now able to have an after school life that doesn't involve making up missing work or extra credit assignments. Now, in his spare time, he likes to practice on his drums, play video games, drive around in his car or hang out with his friends.
"I feel like my friends would describe me as weird but fun" Murillo said. "My parents would simply describe me as a good kid that has an odd sense of humor."
By Kerianna Gaulke