A Cozy Trend
The "Cozy boy" do`s, dont`s and ways to make it your own
By: Angel Rivas
A trend that has drawn large amounts of attention recently has been the "cozy boy" trend, which consists of loose or semi-fitted sweats with an oversized top. This look is inspired by many artists including A$AP Mob and their two group albums, "Cozy Tapes, Vol. 1: Friends" and "Cozy Tapes, Vol. 2: Too Cozy." Another artist that helped contribute to this aesthetic is Kanye West with his own fashion line, "The Yeezy Collection".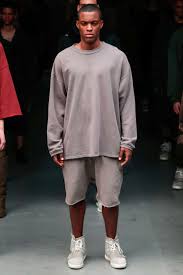 Like other fashion trends the "cozy boy" is bringing back many old school brands such as, "Champion", "Fila", and "Kappa". It is also simultaneously bringing new brands into the limelight which include "Gosha Rubchinskiy" and "Vetements". Even though some of these name brands are high end and on the expensive side, there are many alternatives that won't empty your pocket.
This style is meant to give anyone sporting it a laid back and chill vibe. The whole purpose of the aesthetic is to look calm and comfortable but remain stylish. So, in order to achieve the intended look it is important to not simply look towards your baggy ensemble of old t-shirts. The pieces don't need to be name brand but they have to have a certain fit to them that match the aesthetic of the more expensive brands. This style is very easy to pull off; all you need to do is carry yourself with a laid back demeanor and keep the outfit simple yet stylish.
People can ruin this trend with too many accessories. It's easy to accessorize this style but it's important not to overthink it. Simple pieces are key to successfully pulling off the "Cozy boy" trend. This can include adding durags or even a couple of very subtle chains to your outfit. It's important to stray away from anything too flashy.
Since most pieces that compliment this look are very similar, you can help yourself stand out by wearing more fitted or colorful pieces to establish some uniqueness to your interpretation of the style. This trend is something worth trying out especially if you enjoy fashion but want to be comfortable throughout the day.