Student movie-goers enjoy a haunting at El Dorado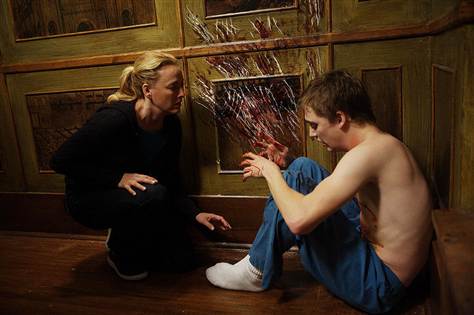 By Ethan Trujillo
Aztec Gold Online
The opening scenes of "A Haunting in Connecticut" played as the sun disappeared on the practice field last Thursday at El Dorado High School. The National Honor Society Chapter's first movie presentation was a moderate success with about 30 students showing up to watch the spooky movie before Halloween. Sophomore Jackie Rodriguez was one student whose love of horror movies made her come out to the event.
"Well, it's based on a true story, so I expect it to be scary," Rodriguez said.
The National Honor Society members voted on showing this particular movie to properly freak out El Dorado students the night leading up to Halloween. The tickets were $5 and the showing began at 6:30 p.m.
I expected that the dimming sun would create the setting for a perfect scary movie with only the light of a projector against a dark field, but the lights from the tennis field ruined the mood just a little bit. They didn't turn off until the movie was nearly over.
As the movie ended, students began to gather their belongings and the cold night brought a shiver to those who didn't bring a jacket or sweater (including me). Many students movie-goers thought this tradition of watching movies under the stars (or a creepy cloudy Halloween night) should continue.
"I thought it (the movie) was good, it had a good story to it," senior Melissa Melchro said. "Next year's movie should definitely be Halloween-themed because it makes the event festive. They could even do this for other holidays, like Christmas, or maybe even a drive-in movie."
Hopefully NHS will be able to use some of the funds they raised from this event for other movie presentations during the year. Showing a horror movie in a dark field with some light on a cold night was the perfect formula for a great Halloween movie presentation.