Testing Alphabet Soup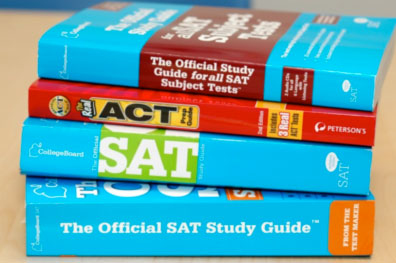 Testing Alphabet Soup
What's the difference between standardized tests?
By Ariana Arredondo
Each of these college exams is important when applying for both admission and scholarships. But what's the difference between all of them?
Preliminary Scholastic Aptitude Test (PSAT)
Is it important?
It will be a great weight off your shoulders to know that the PSAT is nothing to stress about. This is because the score does not count toward college admissions. However, it is the qualifying test for the National Merit Scholarship, which is an excellent scholarship to earn. The PSAT gets you ready to take the SAT and a high score can definitely catch the attention of universities.
What is the National Merit Scholarship?
This is a scholarship awarded to those who score incredibly high on the PSAT. Roughly 2,500 students are chosen to receive this scholarship for their freshman year of college. Approximately only four percent of all test takers win this scholarship, and two percent receive a letter of commendation from the National Merit Scholarship Corporation, which is just short of getting accepted to any college you want. So, if you're serious about good grades, aim high and go for this scholarship with an excellent PSAT score.
Background Information
The PSAT can be taken sophmore or junior year of high school. It is only administered once a year, and although the test date for this year has already passed it will be available to take next school year again for free.
The SAT & ACT
Are they important? Which is more important?
The SAT & ACT are definitely something you should prepare for. They are the scores that colleges will look at during the application process when they are determining whether or not they are going to accept you. The ACT is just as important as the SAT and is weighed equally in the eyes of colleges.
"They (colleges) want to see both; they want to see what you did well at and what you didn't do well at. It's better that they see you holistically rather than in separate parts," said counselor Guillermo Herrera.
So, when deciding which to take, it's important to examine your own strengths along side what they each test. It's also very important to discuss your options with your counselor when choosing which test to take.
What are they?
The SAT stands for Scholastic Assessment Test and is scored on a scale from 400-1600; it tests a student's math and reading skills.
The ACT stands for American College Test. It tests students in English, Math, Science, and Reading, it's graded on a scale from 1-36. They are both used for admission to predict one's abilities during the freshman year of college.
How do I prepare for the SAT and ACT?
There are many resources out there for preparing for the SAT and ACT. If you've never been an active studier then it's not too late to start. You can form study groups (as long as the conversation stays on academics), look up videos and use prep books. One highly recommended site is khanacademy.org, which offers, released SAT questions to study. If you can't find the books, El Dorado's very own library has them available to check out.
When and how can I take the SAT?
| | |
| --- | --- |
| Test Dates: | Registration Deadline: |
| November 5, 2016 | October 7, 2016 |
| December 3, 2016 | November 3, 2016 |
| January 21, 2017 | December 21, 2016 |
| March 11, 2017 | February 10, 2017 |
| May 6, 2017 | April 7, 2017 |
| June 3, 2017 | May 9, 2017 |
When can I take the ACT?
| | |
| --- | --- |
| Test Dates: | Registration Deadline: |
| December 10, 2016 | November 4, 2016 |
| February 11, 2017 | January 13, 2016 |
| April 8, 2017 | March 3, 2017 |
| June 10, 2017 | May 5, 2017 |