Bacon Ranch Turkey Wrap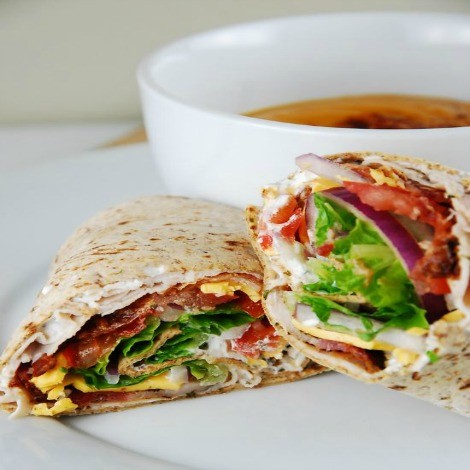 Bacon Ranch Turkey Wrap
Do you want to eat healthy but also want something delicious that will make your mouth water? Here's a great recipe for a delicious Bacon Ranch Turkey Wrap. You will love it so much you will want to make it over and over again. It's made with all-natural ingredients that will surprisingly leave you feeling full of energy.
Ingredients
4 flatout light original flatbreads
8 slices bacon
8 oz roasted turkey deli meat
4 slices fat free american cheese
1 tomato, thinly sliced
Red onion sliced
¼ cup light ranch dip or dressing
Iceberg or romaine lettuce
Instructions
Spread ranch dressing all over the center of the flatbread.
Top with turkey, bacon, lettuce, cheese, onion, and tomatoes.
Fold the sides in, and then roll up.
Per Serving
260 calories
9g fat
21.5g carbohydrates
28g protein
9g fiber
Source:
https://wwrecipes7.blogspot.com/2015/12/bacon-ranch-turkey-wrap-recipe-7.html?m=1#.V2rMALgrLIX